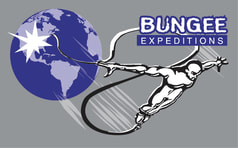 Bungee Jumping

You will find a schedule of upcoming jumps on our "Schedule of jumps" page.
W
hen you're ready to take the "Big Plunge" send us an email and we can get you or your group scheduled for a jump.
Bungee expeditions jumps in Idaho, Utah, Arizona, Oregon, Washington, New Mexico and has several bridges just hours from Las Vegas, Nevada.
---
Follow us on twitter to stay up on the latest jumps


About Bungee Expeditions
Based in Boise, Idaho. Bungee Expeditions has access to several bridges around the Western U.S. With over 27 years of experience and over a thousand bungee jumps supervised Bungee Expeditions has a perfect safety record. When you are finally ready to make the first or hundredth bungee jump, you can feel confident knowing you have one of the safest and most experienced crews in North America behind you. Relax, Breathe and Jump!

Specializing in bridge excursions, Bungee Expeditions travels throughout the U.S. jumping from some of the most exciting and scenic bridges. With several bridges out our back door we jump locally on a regular basis. We also travel to the famous Grand Canyon for a jump off the almost 500ft. Navajo bridge as well as several Bridges throughout Idaho, Washington, Oregon, Utah, Nevada, Arizona, New Mexico and California.

Why jump with us?
Not all bungee systems are the same...Bungee Expeditions uses only custom made shock cords that are specifically designed for us. Known as the "American system" All our jumpers are on a multiple cord system with several backup systems in place to ensure your safety. In over 25 years of jumping we have never had a single system failure or serious injury. Bungee Expeditions is registered in the state of Idaho as an llc corporation.

I made my first jump in 1993 on a New Zealand "all rubber" style cord and was immediately hooked. I quickly started jumping on a regular basis with another club and gained several years of experience and also discovered the American system "mill spec/shock cord" (developed by some of the early bungee pioneers) we use a similar but advanced system to this day. In 2001 I decided to form my own bungee jumping club and named it bungee expeditions, our goal was to keep the roots of bridge jumping pure but bring it into the spotlight and have it recognized as a legitimate and safe sport. I have really enjoyed all the years of taking people out and helping them safely jump off bridges.
Chris B.