Bridges/Jump Sites

Bridges are located below. Clicking on the "schedule of jumps" link on any bridge will take you to a calendar listing the upcoming jump dates. Many bridges are illegal because they fall under a general "no jumping" rule, some are specific to bungee some are just to keep people from jumping period. Many of the bridges will not have specific dates or times so that we can continue to jump out of the public eye.

Bungee jumping is under constant attack as a legal activity, there are more regulations every day to stop us from jumping. Some times it is the police but more often it is one person at a transportation department that creates a rule with no real laws to back them up. These situations are becoming more common and have cost us thousands of dollars to fight. Without the support of interested enthusiasts like you this company would have had no choice but to shut down. Please support the recognition of bungee jumping as a legal activity by donating through PayPal to our legal fund.
---
Highway 21 Bridge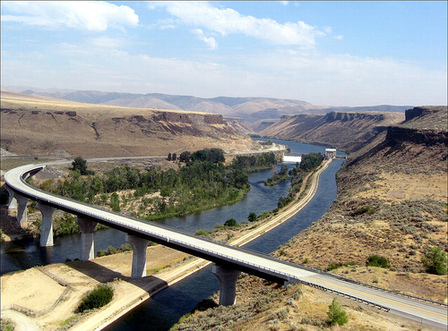 Highway 21 bridge
- Boise, ID. 100ft.
Located 10 minutes from Downtown Boise. This bridge is crazy fun, you will only be a couple feet off the river, possibly even dip a toe in if you want.
Weight limits 110lbs-225lbs. $250 per jumper for two jumps
This bridge can be scheduled almost anytime between Mondays and Thursdays for private groups of 3-5 jumpers
click here for bridge location
---
Navajo Bridge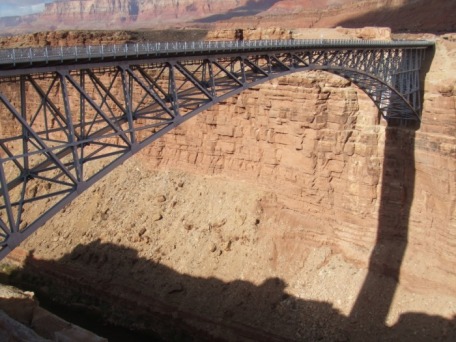 Navajo -

Marble Canyon, Arizona. 467ft/141.5m Located near the North rim of the Grand Canyon over the Colorado river. Located just 4.5 hours from Las Vegas.
Check "schedule of jumps" for upcoming jump dates.
$300-$350 per jumper


Click here for bridge location
---


​Bridge to Nowhere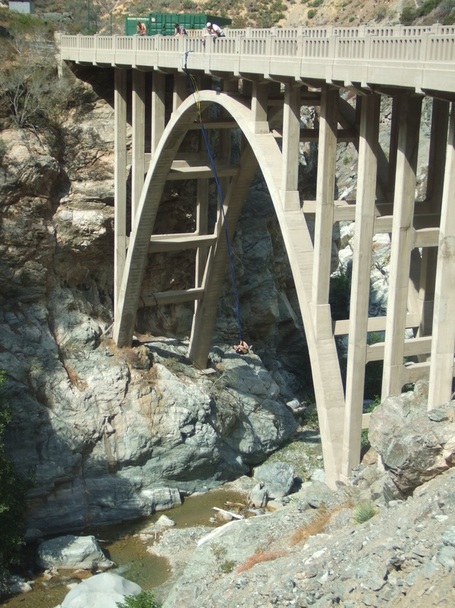 Bridge to nowhere ​ Azusa, California 120ft.

​Located in the San Gabriel mountains with a 5 mile hike into the bridge. Fun jump over the San Gabriel river and a great place to cool off afterwards.

​This trip is a full day with many jumpers camping overnight.

​Very limited jumping at this location



High Steel Bridge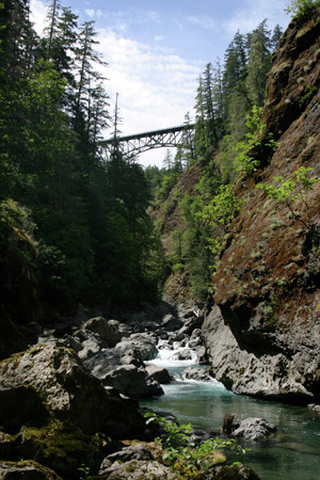 High Steel Bridge
-Shelton, Washington. 385 ft/114m.
This bridge is an amazing jump in the scenic Skokomish river canyon in the Pacific Northwest, located not far from Seattle and Portland.
​Scheduled one time a year (weather permitting)
$300-$350 per jumper

Click for bridge location
---
Perrine Bridge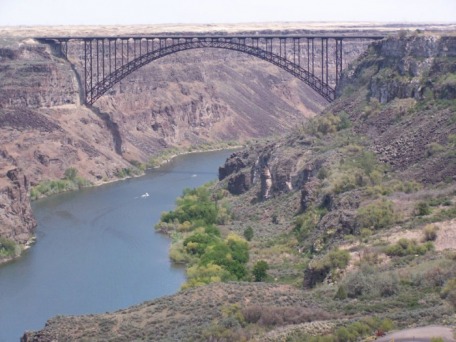 Perrine Bridge-
Twin Falls, Id. 500ft/151.5m over the Snake river. Jumping from this bridge has been restricted but I am currently working on getting it opened up. It will typically only be scheduled for 1 day a year, No private group bookings.
$300-$350 per jumperclick for bridge location
---
Crooked River Bridge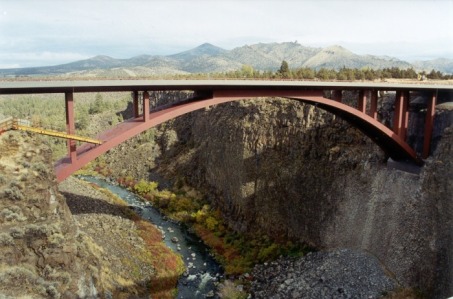 ---
Hansen Bridge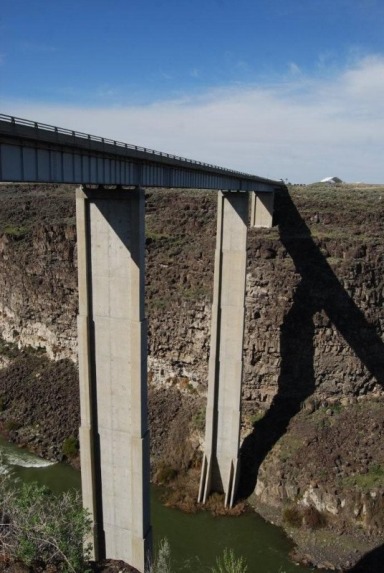 Hansen
- Eden, Id. Located just up the Snake River from the Perrine bridge, 400ft/121m. Much narrower than the Perrine this bridge has a very high feel to it.
Because of an increase in traffic the Hansen bridge will be scheduled for only 1 jump during the summer months and it will be very early morning or late night under a full moon.
$250-$350 per jumper

click for bridge location
---
Rio Grande Bridge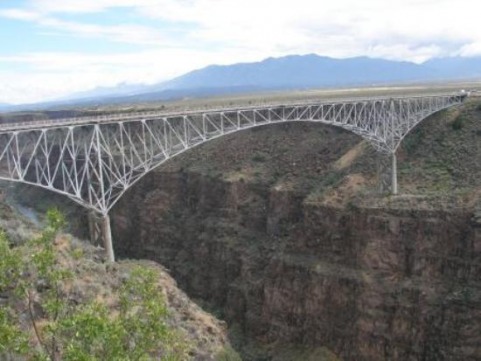 Rio Grande Bridge
-Taos,New Mexico
The Highest bridge we currently jump! 680ft/206m.
Not currently scheduling any jumps at this location.

click for bridge location
---
Heli Bungee

Heli Bungee- 1500ft. Currently suspended. Our Heli-pilot Miles will be flying for the military for the next year, possibly two so our heli-jump operation is on hold for a while.
---
Crane Bungee Jumps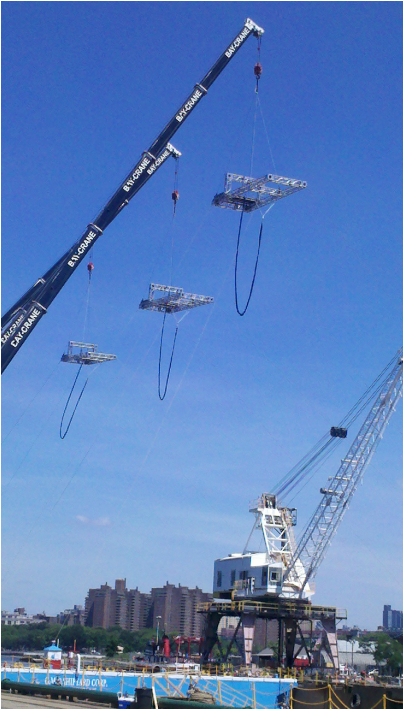 Crane owners/operators... If you own a crane and would like to organize a jump for a local event we can make it happen. Contact us and we can help.
This photo is from the jump we did in the Brooklyn Navy yard for the 2012 season of "the amazing race"
---
Unknown Jump Spots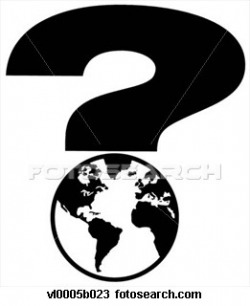 I'm always looking for a new bridge....Have a bridge close by? Bridges should be at least 150 ft. Send me the details and maybe we can schedule a jump there.
---


Below is a few of the bridges we have lost to the growth of government and the loss of individual freedom.

Glenn's Ferry Bridge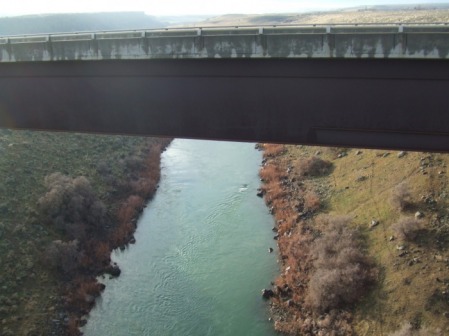 Glenn's Ferry/King Hill
-
1 hour from Boise 170ft/51.5m
Because of regulations in the local county we are no longer jumping this bridge. At least we have the memories and videos.
---
Dirty Devil Bridge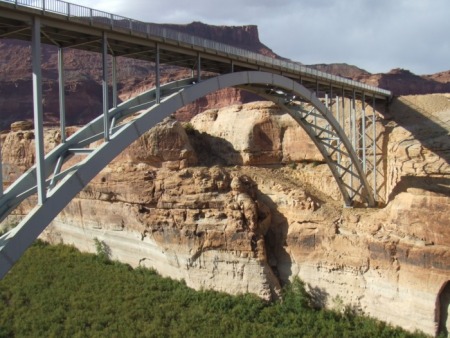 Dirty Devil
-Lake Powell, Southern Utah. 230ft/70m. Great camping and amazing scenery right at Hite marina.
Because of new Federal regulations I will no longer be jumping the Southern Utah bridges.

click for general bridge location
---
White Canyon Bridge
White Canyon -
Lake Powell, Southern Utah, definitely one of the scariest bridges we jump. 260ft/79m deep and only 30ft/9m wide at the bottom.
Because of new Federal regulations I will no longer be jumping the Southern Utah bridges.
click for general bridge location
---
Hite Marina Bridge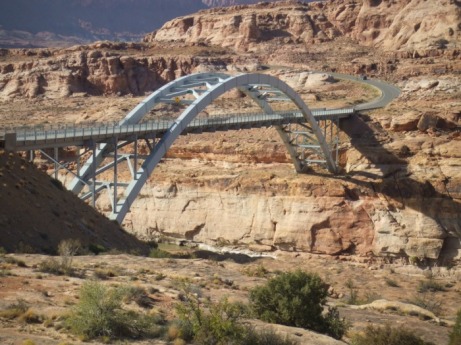 Hite Marina Bridge-
Lake Powell, Southern Utah. 120ft/36m over the Colorado river where it feeds into lake Powell.
Because of new Federal regulations I will no longer be jumping the Southern Utah bridges.

click for general bridge location
---