Want to own Bungee Expeditions?
I will be phasing out of the bungee business over the next few years and will be selling Bungee Expeditions. Sale will include training, all assets, equipment, website, social media and intellectual based property. Contact me if you are interested.


T-Shirts, Gift Certificates, Stickers, Equipment, Operations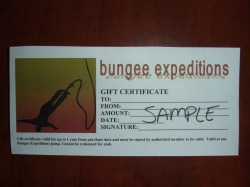 Bungee Gift Certificates
.
Click to order
Gift Certificates can be for the amount of a specific bridge or any amount you want.
---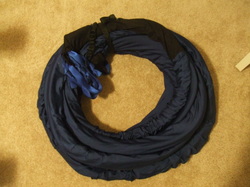 * Shock Bungee cords
* Harnesses * Rigging * Jump Master training
Bungee Expeditions can outfit your company or club, with a wide variety of Bungee products or Jump Master training. Whatever you need, contact us today for standard or custom applications.
Rigging and training prices depend on your needs. Contact us today for a custom application and we can get you taken care of.
Pricing for cords is a standard application. Each cord will come complete, tied with 1" tubular webbing and fully sheathed.
Each cord is 5/8th round rubber with a cotton and double weave nylon casing. Minimum breaking strength of each individual cord 2850 lbs.
2018 Assembled and sheathed Bungee Cord Pricing
Minimum number of cords in any setup for bungee application is 3.
Standard pricing $11.76/ft.
Example: length x 11.76 x number of cords.
Example: 50ft x 11.76 x 3 cords = $1764.00
Most orders can be built and shipped within 14 - 21 days. Rush orders can be built and shipped in 48-72 hours with a 20% rush charge
---
Bungee Expeditions Stealth Ankle Harnesses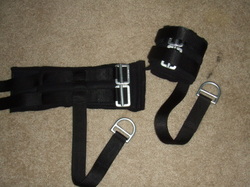 High density foam sandwiched between 4 layers of fleece, 1.5 inch webbing, 5000lb. slide buckles and D-rings, 18 inch leader straps
$325 pair, $350 for custom lengths
---
Interested in starting your own bungee operation?
Complete bungee operations start as low as $11,000 and includes everything you need to get started. Franchise opportunites available at already established sites.